Travelling alone isn't something new to me, it's fairly usual in fact. What made travel in the time of coronavirus so lonely was the sheer lack of other people, and that the few people there were, were mostly expressionless, because of the masks.
After over three and a half months away, briefly in Cuba, and then mostly in Mexico, it was time to go home. Kate and I had delayed our original departure dates, deciding to stick things out in Mexico city for up to another month. In late March, it was hard to predict which way things would go, but Mexico's numbers looked good and maybe elsewhere it would have beem under control by then? But as cases mounted in Mexico and further restrictions came in it also looked like the window of opportunity to leave by air was rapidly closing. We couldn't really stay in Mexico indefinitely.
Before Mexico City we'd been in Oaxaca, where apart from there being a LOT of hand sanitiser around, you wouldn't have had a clue about the impending coronapocalypse. We got to Mexico City late on March 15th. The city was still functioning normally, cafes, restaurants and bars were open. I'd spotted a genuine 'approved' Neapolitan pizza place round the corner from our apartment and that would prove to be one of the last sit-down dinners we'd have there. At that time this was mostly because we felt it was time to do some eating at home. Apart from breakfast. If you're ever in Mexico City you should stay in Condesa or Roma Norte, and if you're staying there you should go to Freims for breakfast. Every. Day.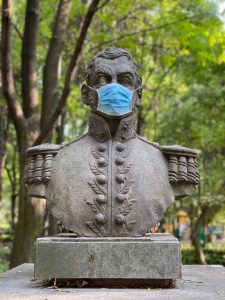 The first week in CDMX, right up to my birthday on the 23rd, was almost normal, aside from the Frida Kahlo museum unexpectedly closing before our scheduled visit on March 21st. Then on the 22nd restaurants started closing for eating in, some switching to delivery only. Government rules on this would come later. By the time we left, almost everyone was wearing a mask, although the government weren't mandating it.
Getting a flight back
I spent countless hours (ok, around 8) on hold to Aeromexico each of the three times I changed my flight. Over the course of two weeks I had booked three different routes depending on which direct flights to Europe Aeromexico said were flying, paid two three-figure change fees. and correspondingly booked, then cancelled three onward flights with Iberia, British Airways and LOT (still waiting on refunds for some of those).
The flight TO Europe turned out to be the easy bit
The final plan I thought was settled was to fly direct to Paris, stay overnight in an airport hotel then fly via Warsaw to Prague on LOT. I figured by buying those flights week-of I'd be ok. Then three days before the Polish government extended the no-fly limit and those flights were off. The only flights into Prague around that time still running were from Minsk and Belgrade. For either of them I'd have to spend another night in an airport hotel on my way back to Prague. And they weren't cheap. What about flying close to the Czech Republic and entering via a land border? The options were Berlin, Munich and Vienna. Berlin didn't have direct flights from Paris but Munich did. Two a day. From Munich I could take trains and a bus to the German-Czech border, walk across and from there I'd need to be picked up by a friend because it's not permitted to use public transport if you're entering the country to be quarantined.
Announcing my plans to the Czech Embassy
Once mandatory quarantine for anyone returning from abroad was announced, it became a requirement to inform the Czech Embassy of the country you're in that you intend to return to the Czech Republic. I got a reply to my email with a link to a Microsoft Office hosted form that I had to fill in with the details of my plans to return, including the border crossing I intended to use and the approximate time. My email had mentioned the 'flying via Warsaw' plan, but that had changed to the final version by the time I got the link to the form.
The journey itself
Kate had left a couple of days before so I'd been rattling around our rented apartment, enjoying a last couple of ceviche deliveries (Yakumanku, in case you're ever in CDMX), waiting to leave. Bags packed and ready to go, I tried once again to check in online. Not allowed, check in at desk, was the instruction.
Friday 10.04 9:30 pm – Uber to the airport (Saturday 4:30 am CEST)
Uber is THE way foreigners get round Mexico City and it wa comforting knowing it would just be two minutes to order one. I bid goodbye to the doormen of the building and got in the car. The ride to the airport was swift. Traffic was a lot lighter than the average Friday evening I'm sure.
Friday 10.04 10:00 pm – Check-in (Saturday 5:00 am CEST)
Everyone at the airport was wearing masks. While not empty, it definitely wasn't busy. I handed over my passport and Czech permanent residency booklet. Some palpitations as the check-in clerk told me that he was unable to check me in, a message on screen was preventing him. He went to speak to his supervisor, showed him my documents then all was well. Just in case I asked about a business class upgrade price. Still wanting $900 as they had online, so that was a no. A few minutes of unnecessary worry (the 'oh I guess I live in Mexico now' moment) but then I was waved on to go through security. At security everyone is wearing masks and gloves. My temperature is taken and I sign a form stating I've not had any covid-19 symptoms in the past two weeks.
Friday 10.04 10:30 pm – At the Gate (Saturday 5:30 am CEST)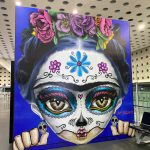 Having never flown out of Mexico City's airport at midnight before I have no frame of reference. On the way to the gate no shops are open, but it's late, most flights have departed so that might be normal. Once I get there, a cafe is open, but I'm not hungry (the final ceviche order saw to that). There are a handful of people at the gate, all sitting quite far part from one another. All the passengers have masks too. There are less than 100 people there when we are called for boarding. Hasta la proxima, Mexico!
Friday 10.04 11:15 pm – On the plane (Saturday 6:15 am CEST)
Boeing's 787 is a pretty nice place. The seats are in a 3-3-3 configuration. I get to my row and I have it to myself, as do most of the other passengers unless they're traveling in pairs.
Friday 10.04 11:55 pm – Take-off (Saturday 6:55 am CEST)
We take off precisely on time. As it's after midnight I decide against eating and try and get some sleep. It's an 11 hour flight after all.
Saturday 11.04 4:30 pm – Breakfast
After a fitful night's cursory bite to eat – in fact I can't even remember what it was – I un-dim the window to watch the French countryside below as we lumbered towards Charles de Gaulle. Occasionally spotting a vehicle moving on a country lane or a minor highway. It's a very different Europe that I'm coming back to.
Saturday 11.04 5:15 pm – Landing
A smooth landing a little ahead of schedule and a long taxi to our gate. Along the way I see a lot of grounded Air France planes, and Concorde. What a beautiful plane, but when you're that close to it, and it's next to another plane, you can appreciate just how tiny it is, it almost looks like a model.
Saturday 11.04 5:45 pm – Deplaned and queueing for passport control
With Xs marking the 2m safe distance, the queue takes up a fair bit of space but moves quickly. The immigration officer checks my documents and I'm asked to show my ticket for the following day's onward flight. And how I'm getting back to the Czech Republic. Baggage claim was speedy then it was time to get some shut eye.
Saturday 11.04 6:15 pm – Hotel check-in
One of several hotel airport reservations I'd made (can't be too prepared) for the variations of journeys was at the CDG Citizen M. Small but nicely designed and well-equipped rooms and cool public areas, if you were able to linger, which I wasn't. There would be space issues for couple with average amounts of luggage but I was here for a night. To get here it felt like I'd walked halfway through the whole airport complex to get the shuttle train to the hotel zone. With the mostly-closed-down airport offering little in the way of possible places to eat, I was glad the hotel had a you-come-and-get-it room service menu. The shower was most appreciated. Then I was ready to sleep properly.
Sunday 12.04 06:00 am – Wake up!
With a flight in a little over two hour, I figured I had time for a quick breakfast. And you should always have a croissant when in France, right? Quick shower, puck up the breakfast at reception, scoff it all then head back to the airport.
Sunday 12.04 07:00 am – Back so soon?
Once again a trek back through the airport (the most I would walk for some time to come, so I enjoyed it) to reach the few open bag drop desks. Once again everyone in masks. A document check again, security then time to wait-at-gate. There seemed to be a couple of flights departing every hour. The only places in the airport open were the Relay convenience stores and kiosks.
Sunday 12.04 08:15 am – Another on-time take-off!
For some reason I'd been allocated a seat in a row with someone else even though there were plenty free. I was fine with it, but the older German lady I was sharing the row with was eyeing me with suspicion. And she coughed a couple of times behind her mask. So I moved to an empty row.
Sunday 12.04 10:00 am – German Border Police – there could be trouble ahead
All things considered, things had gone pretty smoothly, aside from the brief speel of uncertainty about being allowed to board the plane from Mexico. The German border officers were particularly thorough though. They wanted to see my train ticket for my journey to the German-Czech border. Fortunately I'd bought it online. Several minutes of waiting followed while they checked my route, and called someone to confirm that the border crossing I was headed to was indeed open. The Czechs had closed several border crossings from mid March so they were just making sure I'd be able to follow my plan through (and leave their country as planned).
Sunday 12.04 10:15 am – To Munich!
Another deserted airport trek, to the central transport hub and the S-Bahn station to take the train into Munich. I bought a ticket got to the platform, stepped on the train and the doors closed 5 seconds later. Good timing? Or was it waiting for me? For a while it seemed like I was the only person on it, but by the time the train reached Hauptbahnhof there were handfuls of people on it. Only a few wearing masks. Masks were the exception in Munich, not the rule.
Sunday 12.04 11:00 am – Killing time in Hauptbahnhof
With a solid hour or so to spare, and an appetite, I decided on a durum kebab. I know I could have had wurst, but I wasn't feeling it at the time. I've no idea how busy Munich's main station is on a Sunday morning but there were people milling about and most of the food outlets were open. Although most members of the public weren't wearing masks or gloves, staff at all the kiosks and shops were. Maybe one in ten passers-by were.
Sunday 12.04 12:24 pm – Precise to the minute, it's auf wiedersehen Munich. Trundling through the mostly flat Bavarian countryside on the first of a train-train-bus combo to the border. The six minutes to change trains, and platforms in Plattling always looked a little tight but I made it. The second train is much smaller than the first and heads up into the hills of the area the of the Bavarian forest that forms a natural border between the two countries.
Sunday 12.04 3:00 pm – From Zwiessel to the border by bus?
I have fifteen minutes to wait for the bus that will slowly, over the course of 40 minutes, wend its way to the Czech border (just a 15 minute straight drive). So I wait. I check the bus stop timetables. No mention of this route number. I wait till ten minutes after. Aware that I've asked Klara to meet me at 4pm on the Czech side of the border, I'm a bit concerned. It's 15km to the border, not a short walk and I doubt people are going to pick up a hitchhiker. Noticing there's a marked taxi parking spot, I google for a number and call. Hopefully they're still working even though. The taxi driver answers. She'll be there in 10 minutes! When she arrives I put my luggage in the boot, then get in the front, noticing a perspex divider between front and rear seats. I wonder if that's new. A bit of chat about the current situation, probably the longest conversation I've had in days, then as we approach the border it's time to get out.
Sunday 12.04 4:00 pm – Czeching back in
There's no German border control that I noticed, I get out right by the blue EU / Czech Republic sign. A hundred metres or so on and I'm at he small group of Czech border police, all wearing masks. They check my papers, hand over a leaflet about quarantine rules, ask how I'm getting to the border, then wave me through. Klara appears minutes later. She's got a mask for me, just in case. In the Czech Republic, if there's more than one person in a car, regardless of whether you live in the same household, you have to wear a mask. The last time we saw each other was at Lake Bacalar, Mexico, in mid February. The world had been turned upside down since then. How unknowing we were.
Sunday 12.04 6:30 pm – Home at last
An uneventful and traffic-free journey back to Prague, and it's time to start my quarantine. There's nothing to eat, so I do what I do very time I come back to Prague after a long time away, I have a carpaccio, a burger and beer at Kantyna. Except for the first time ever as a delivery. Now I'm home.
An Epic Journey
All in it took me 38 hours to get from Mexico City to Prague. By way of planes trains and automobiles I made it back home to a country with semi-closed borders, through two other countries. Given that a major chunk of that was waiting for an onward flight, which I might have had to do even under normal circumstances, this is only a little longer than normal. I got back shortly after new coronavirus cases peaked in the Czech Republic. Travel for pleasure still isn't possible right now, but the world hasn't totally stopped. Some connections are still in place, albeit less frequently, but flights are running, even if under capacity. It isn't impossible to get somewhere, as long as you're allowed to be there. With the easing of restrictions taking place in various European countries, the machinery of business and such physical communication links, will soon whirr back into action.