Arriving at Rome Ciampino airport with a couple of hours to kill before Klara, my travel companion, would get there to pick up her car and swap out travel buddies around the midpoint of her 4 week Italian odyssey, I did what any sane person arriving in Italy would, I got some food. A caprese seemed like the best bet at the airport restaurant and it proved acceptable but much better mozzarella was awaiting later on the trip…
Having just spent 3 days in Rome Klara was keen to get the hell outta dodge as fast as possible but Rome traffic is tough and it took a while to get clear of the snarl on the highways around the city. We arrived in good time at our B&B in the hills of Lazio, close to Abruzzo, greeted as we squeezed slowly through the town's narrow main street by the B&B's owner who was waiting for us and had spotted the CZ plates.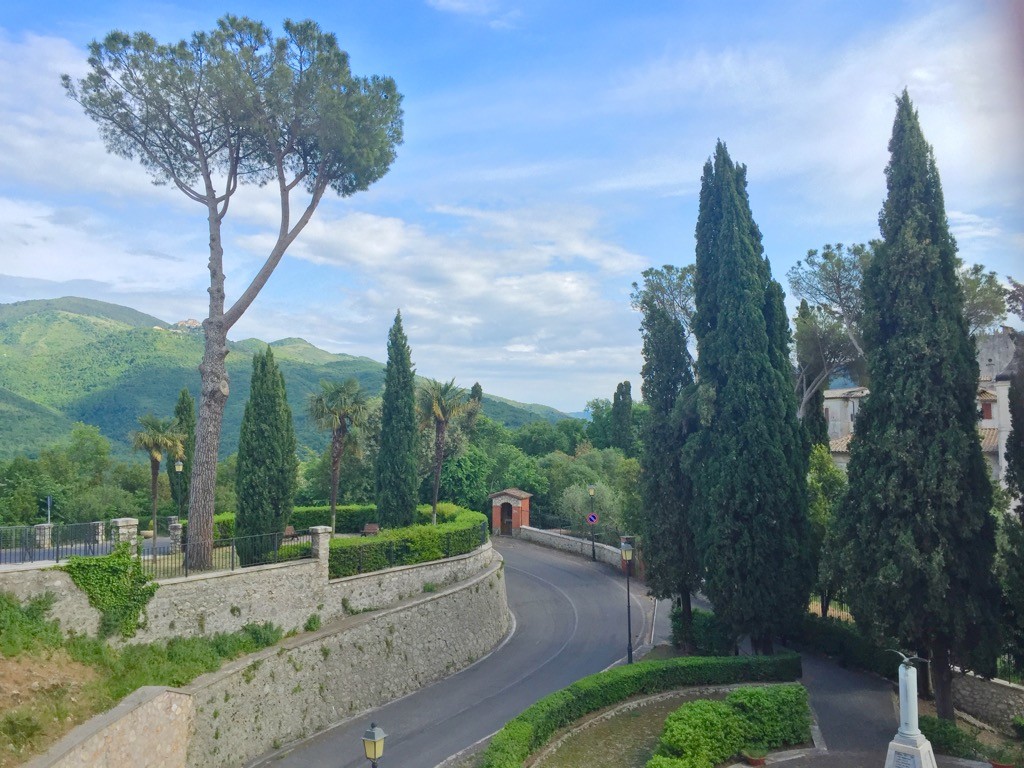 The town offered few choices for dinner so we headed to an agriturismo that came highly recommended. We were the only guests in a vast space that looked like it could hold 100 easily. The food was simple and immensely plentiful. Starters were mostly meat. The mix grill, especially the lamb was excellent but the dish we had in between, pasta with wild boar could have done with more than having a boar pass within 5 metres of it. It had the flavour but was almost vegetarian in the quantity of morsels of meat to be found in the dish. It's not like they are short of boar either. The farmer came over later, motioned us to pick up the binoculars and pointed out a group of wild boar in his field, growing ever braver as night fell and wandering closer to the farm buildings. Dinner overwhelmed us in the end and we admitted defeat. Do Italians really eat 4 course meals all the time?
The next day we packed our bags again and headed to our next stop but on the way we would get some hiking in at Campo Imperatore, an alpine meadow, described in much more detail than I am capable of here by Klara.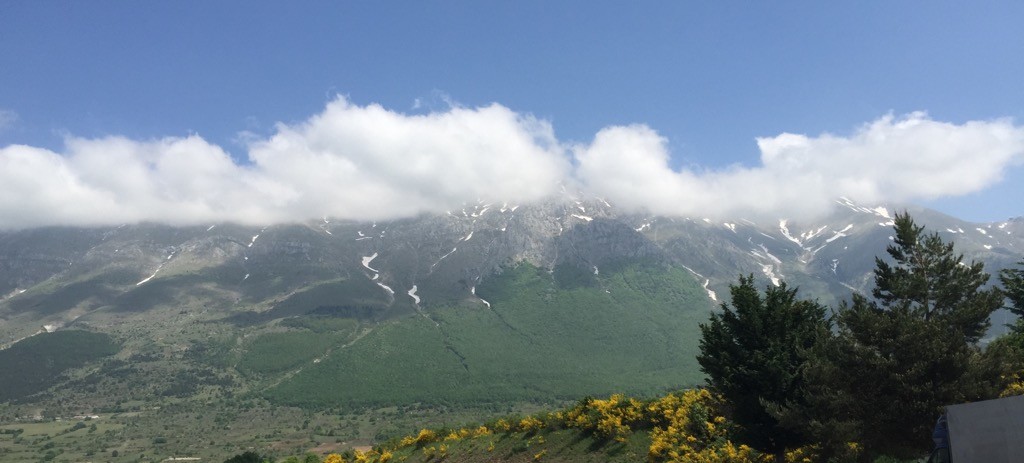 Another tiny B&B the next night and another hearty meal, though learning from our mistakes we split a pasta and a main course between us.
We got an early start the next morning for a long drive through the middle of country and towards Naples. There were two routes but we wanted to see more of Campo Imperatore so we took the slightly longer route and happened on a place that must be an institution for day trippers, hikers and bikers in summer. A 'macelleria' – butchers shop – where you can buy meat then grill it yourself. We started with some antipasti of course (they had just opened and needed to prepare the Abruzzo regional speciality, arrosticini). These are small skewers of cubed lamb or mutton which you place over the coals on a special narrow grill, turning them as needed, then enjoying the tiny juicy bites.
At this point I would like to point out to anyone who knows me that I had been in Italy for 3 days and managed not to visit a single vineyard. That will change however…